Jupiter-9 85/2 Chrome
The Russian Jupiter-9 is a high quality telephoto lens for the Leica type rangefinder cameras. It is a copy of Zeiss Sonnar 85/2.

The Jupiter-9 is one of the most desirable Russian lenses in both Contax and Leica (39 mm) mounts. It produces very pleasant images (portraits in particular), and you can control depth-of-field with a wide range of aperture settings.

The lens mounted on a Leica (or Leica copy) has a nice balanced feel.

Focal length: 84.5 mm
Aperture: 1:2 (settings from 2 to 22)
Focusing: 1.15 m - ∞
Filter size: M49x0.5 mm
Optical registration (back focus): 28.8± 0.02 mm
Mount: M39x1 mm (LTM). The lens mounts and RF couples with any Leica or Leica copy (FED, Zorki etc.)
Optical design: 7 elements in 3 groups

The glass is coated; the barrel has a polished aluminum/chrome finish

(Source: www.fedka.com)

Please see attached file - an article about creative applications of Jupter 9 by Luiz Paracampo.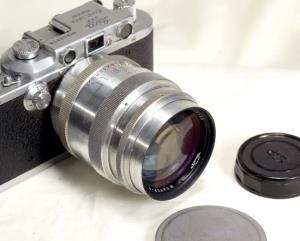 (Click to enlarge)
---
File Downloads:

Jupiter9_new_applications.doc