Yunost
1957-1961



Yunost (Junost) means "Juvenility" in Russian. This is an uncommon fixed lens/leaf shutter rangefinder made by GOMZ (LOMO) in the late 1950's. The camera has an unusual design - separate rangefinder and viewfinder windows, crank winding lever, coupled aperture and shutter speed on the lens body. A similar design is used on the medium format Iskra.


Produced: 1957-1961
Name: "Юность"
Producer: GOMZ
Frame size: 24x36 mm.
Lens: Triplet -32 3.5/45.
Shutter: 1/8s, 1/15s, 1/30s, 1/60s, 1/125s, 1/250s + B.

Quantity: 51.026 units.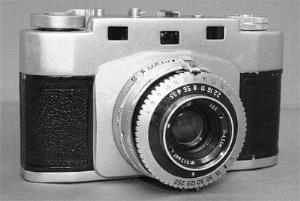 (Click to enlarge)