...one more time a little bit about FED
by Alexey Nikitin, translated by Vladislav Kern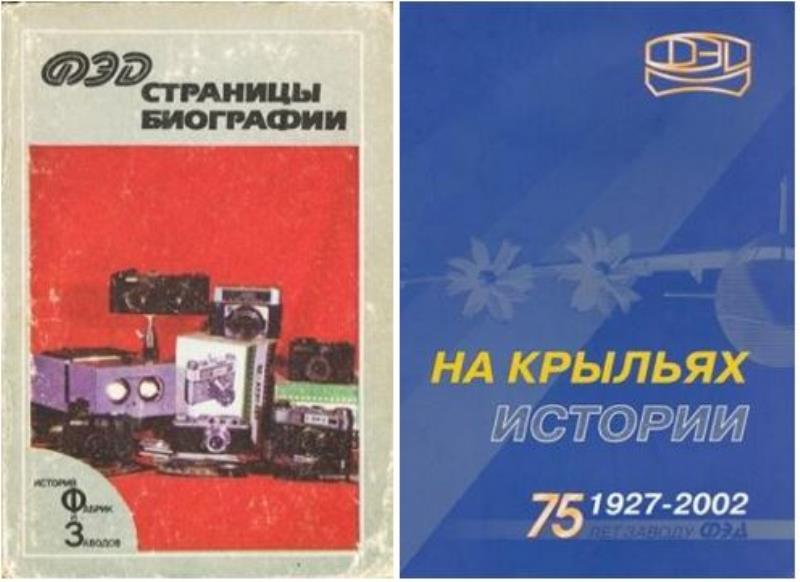 After I read the books "FED pages of biography" published by Prapor-Kharkov-2 1987 and "On the wings of history. 75 Years of Factory FED" published by Maidan Kharkov 2002, I came to a thought that I need to outline the important dates of the development of FED factory from the point of view of cameras. I did so below. There are certain questions regarding some facts and the following conclusions. I wanted to share this with the visitors of the site. I hope that some of these visitors are familiar with the events described below and that those that are not will add to their knowledge and at the same time will clear up some myths and legends regarding sore and undiscovered topics in this story.
FED before 1941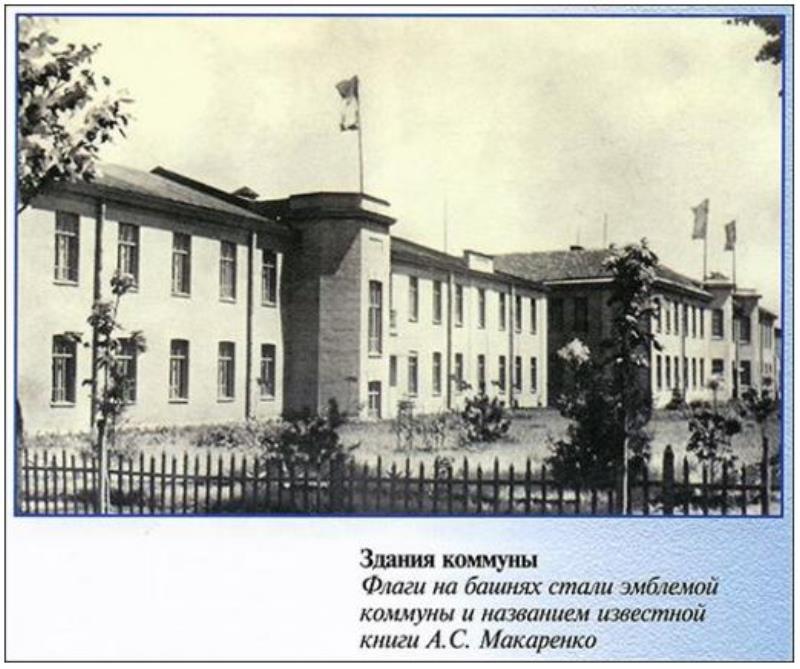 (The building of commune)

1. F.E. Dzerzhinsky / Chairman of VCHK / 1920-1921, organizer in liquidation of issue of homeless children
2. December 29, 1927 - Opening in Kharkov of child labor commune named after F.E. Dzerzhinsky
1928 - small workshops
1930 - mass production workshops
1932 - Electric drills factory
1934 - camera factory
3. In January 1928, in the commune welcomes first 40 homeless children, picked up from the street .
4. January 7, 1932 was a significant event not only for the commune but also for the entire industry of the country - the first launch of the factory in the Soviet Union in electric drill production.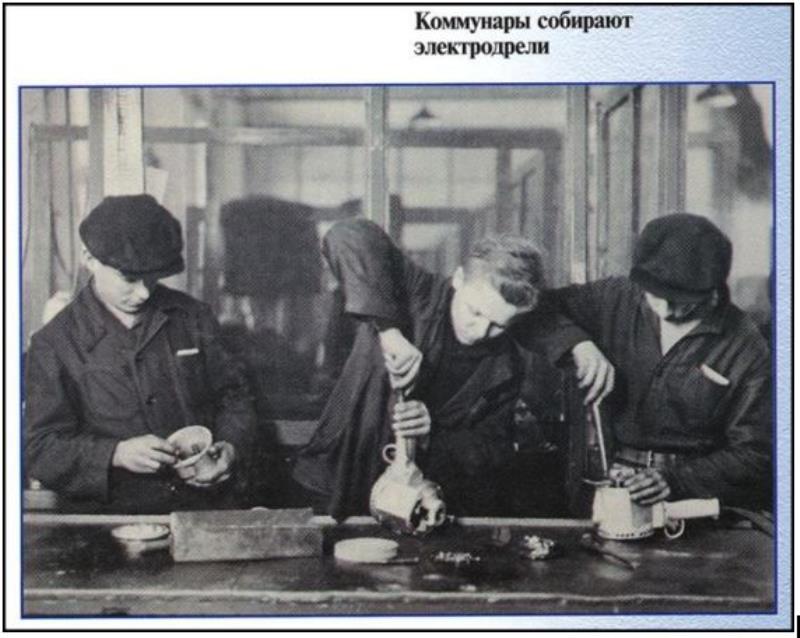 (Communars building electric drills)

5. October 26, 1933 - Three cameras of type "Leica " were assembled by optical specialists from Leningrad that were assigned from LOMZ. A.I.Baykov , L.P.Perfilev , Zemelkina , DN Sharikov, G.O. Esman.
6. December 1933 - The workshop produced the first 10 cameras. Count of serial production of FED cameras started on January 1934, with the #31 serial number.
7. September 1935 - Photo-production released ten thousandth camera under FED brand . / Known by a certificate №8031 5.VI.- 1935, collection of A.Zilbert / .
8. 1936 - Issuance of 25 thousand cameras under FED brand.
9. December 30, 1938 - Commune of F.E. Dzerzhinsky is eliminated. Workshops that produced electric drills, cameras and optical-mechanical devices were transformed into the Kharkov Industrial Plant of NKVD of the USSR (Kharkov NKVD Kombinat SSSR) of F.E.Dzerzhinsky. / But still for a little more than a year to February 1940, the top cover is engraved the USSR (Ukrainian SSR) NKVD. Probably used the old leftover top covers /
10. The photo factory in 1940 issued 33 000 cameras, 24 000 photographic enlargers, 10 000 lenses and 3000 exposure meters . And just before the July 1941 the plant produced 150,000 cameras . / №175524 known a certificate from 21.VI.- 1941 - Private collection/
11. By mid-1941 the factory became a large enterprise , and got a new specialization - the production of aviation equipment.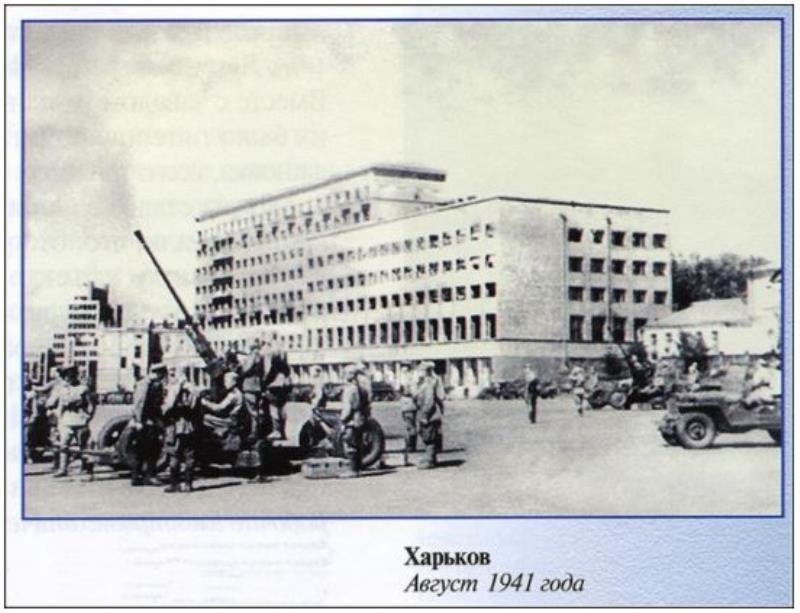 (Kharkov, August 1941)


1941 - 1946 - Evacuation to the City of Berdsk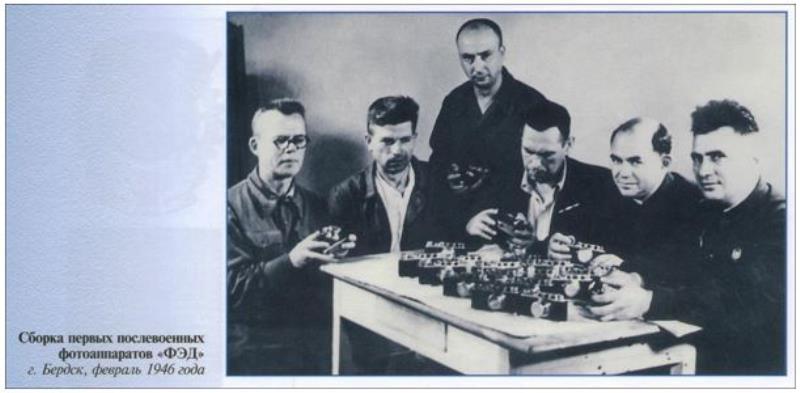 (Assembly of first after-war cameras FED. Berdsk, February 1946)

1. September 5, 1941 the evacuation from Kharkov plant had started to the east of the country - city of Berdsk. The first group of people had moved, lead by chief engineer N.A. Gorbunov.
2. September 15, 1941 - the first train left with people and equipment. October 16, 1941 last train had left Kharkov. The battle for Kharkov was taking place from 1 to 26 October 1941. A month later, in November 1941, the trains arrived in Berdsk of Novosibirsk region. (40 km. From Novosibirsk).
In November and December 1941 a part of the workshops started to manufacture military products.
4. In October 1942, the production of civilian goods (in Berdsk) was terminated , all optical-mechanical and electric production was transferred to other plants . In particular, all work in progress, "unfinished " technology , materials , special equipment, and most importantly, most of the specialists - optometrists and qualified workers - all were sent to Krasnogorsk
1946 - camera in Berdsk
1. September 16, 1945 the plant was awarded the Order of the Red Labor Flag for the implementation of government jobs for the production of aviation technology during the war.
2. In May 1945 the administration decided to restore production of FED cameras on the territory of Berdsk . It was difficult , almost impossible since back in October 1942 the whole production of these cameras was transferred to Krasnogorsk.
3. The resolution of the Government for restoring production Cameras plant №296 of F.E. Dzerzhinsky was released in June 1945. Everything had to be started from scratch . In July and August 1945 the work drawings were ready.
In January 1946, the workshops #18 and #49 produced the first postwar cameras . For the production of optical lenses, a special area has been specially created . By that, the workshop #23 was organized and started working assembly. In early February 1946, 10 prototype cameras were released. / I want to remind the reader that it was all in Berdsk . Hence, as we know there was a new engraving on the top cover - NKAP - Soviet Order of Labor Red Banner of F.E. Dzerzhinsky and a new covering of the body /horizontally striped/ new numbering of lenses , the new numbering of cameras. It starts with Serial #200.000 - known by a certificate #201280 19.VIII.- 1946 by J.L. Princelle, where it is written: "For all noticed defects contact: City of Berdsk, Novosiberian region. FED. "
Earliest known camera NKAP is #200.006 - collection of halee 617. Latest known camera NKAP #201880 - Aukro 2015.
/ It is logical to state that NKAP cameras made in evacuation are those and the same as Berdsk FED an not the FED 1e with serial # range of 173.500 - 184.000. For convenience I will call these pseudo-Berdsk, so not to break the years of established nomensclature and so at the same time, it is clear about as to what the cameras I'm referring to /
So from prototypes it was necessary to proceed to mass production, but the factory lacked capacity .
4. In June 1946 came the news of the re-evacuation of the plant back to Kharkov . The remaining plant in Berdsk on October 10, 1946 was reorganized into the State Union Berdsk Radio Plant / BRZ / .
5. At the end of October 1946 the last trains left to Kharkov ........
1947 - 1955 Back to Kharkov
1. In January 1947 an installation of equipment in Kharkov was completed. Already in 1947, a sample batch of cameras were produced. / I think those were cameras in 210.000-210.250 serial # range /
2. The plan was to start serial production in April 1948. But the assembly workshop could not cope with routine tasks and in the first few months was able to assemble only a few cameras. By June 1948 it produced only 20 pieces! / It seems refers to paragraph #1 above. / But by the end of 1948 they started to produce 300 cameras per month. / #212059 is known from a certificate from 22.II.-1949 collection of S.Pseunok /.
3. From October 1955 the plant started production of the serial camera FED-2. But this is another story..............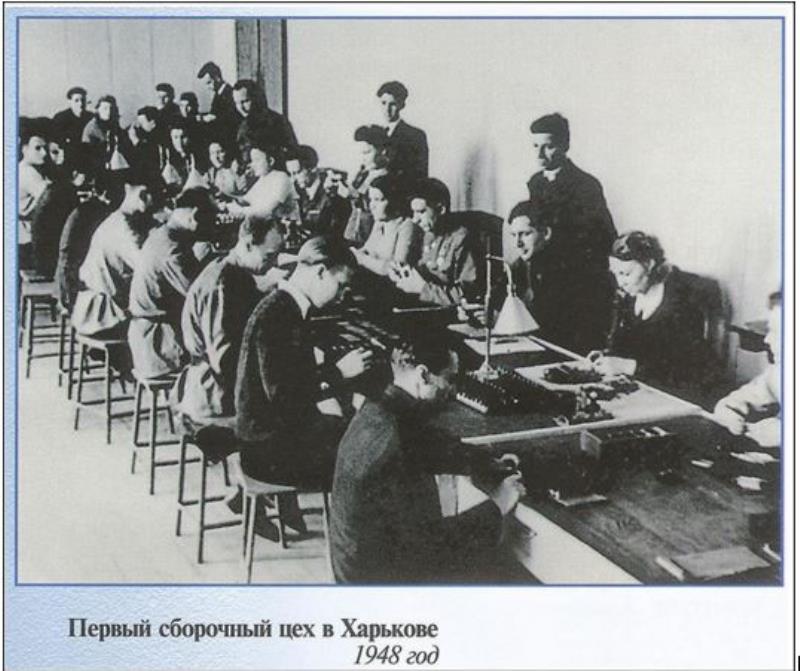 (First assembly workshop in Kharkov, 1948)